Broad-billed Hummingbird in Michigan
The Broad-billed Hummingbird (Cynanthus latirostris) is a species of the western mountains and foothills of Mexico and ranges just north into southeastern Arizona. See photo below. That this species has wandered to Michigan not once, but twice, is truly remarkable. Strays of this species have been recorded elsewhere in the east, primarily from the Gulf States, including: Ontario, Illinois, Louisiana, Alabama, North Carolina, and South Carolina.
Sight records have been documented by written descriptions and photos. These records have been published in Michigan Birds & Natural History (MBNH), and the records are housed in the Michigan Bird Records Committee (MBRC) files at the University of Michigan Museum of Zoology, Bird Division (UMMZ).
The first for Michigan was found from June 2-5, 1996 at a private residence at Lac La Belle, Keweenaw County, in the Upper Peninsula (MBNH 4: 27. desc./ph. UMMZ). Photos of this bird can be found at the Michigan Bird Records Committee website.
Michigan's second record occurred from July 11-13, 2000 at a private residence at Rockford, Kent County, in the Lower Peninsula (MBNH 8: 33. desc./ph. UMMZ).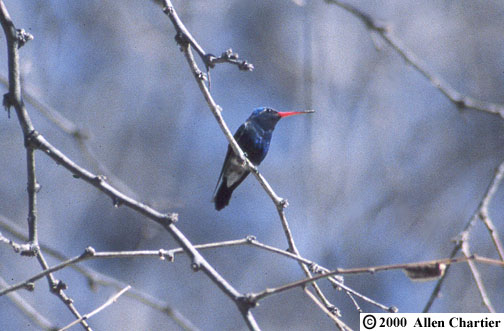 Broad-billed Hummingbird.
Photographed on March 27, 1997 near Patagonia, Arizona.